"Glad to have met the team at Solutions 8. Their creative minds have really given our business the competitive edge we needed through digital marketing. I highly recommend Solutions 8 for their creativity and personal attention, I can't say enough about how EXCELLENT Soultions 8 is!"
Tim Lyons
Founder || ProFit Marketing Solutions
Two-time "Two Comma Club Award" Recipient
We Happen To Be The #1 Ranked
Google Ads Agency In The US…
But at Solutions 8, we don't make extravagant promises. We don't proclaim to have some top-secret knowledge other agencies don't. And we certainly don't have any magical, otherworldly powers (even though we love a good superhero movie).
We're just really good at what we do,because we work hard at it.
Everyone on our team is fully invested in helping our clients grow and thrive. If we make promises, it's because we know we can fulfill them. And yes, we make really incredible things happen with Google Ads, but that's just the result of experience, continuing education, and nonstop hard work.
In fact, when DigitalMarketer (the premier online community for digital marketing professionals) needed a Google Ads expert, they asked us.

Responsibility
By being proactive we influence the world in a way that only responsible people can. Responsibility requires us to constantly look for opportunities to go further. We don't try to get out of work, we lean into it. We are constantly asking ourselves: How do we help each other? How do we give more? How do we do more?
Truth
Everything we do requires a commitment to truth. We are data-driven marketers and data is truth. If something isn't working, we tell the client. If we make a mistake, we own it. If we disagree, we say so. If we don't know the answer, we admit it readily...and then figure it out! Truth is the first and most important step to solving any problem. Truth is the foundational value of our company.

Heart
We care. We care about our clients. We care about our teammates. We care about the world around us. People rely on us to do what's best for them. Helping people grow their business is a sacred trust. The only way to honor that trust is to treat their businesses as our own.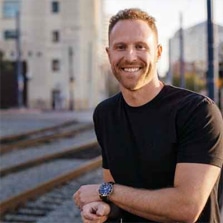 "Kasim and team are some of the most knowledgeable and effective in the space. Working with the team was seamless and they over delivered. Highly recommend."
Justin Colby
Founder || The Science of Flipping
The Team Behind The Scenes
We are a group of hard-core problem solving, custom code hacking, status-quo bucking, out-of the-box thinking, genius digital gangsters breaking out the creative solutions with a vengeance and the passion of a thousand suns (covered in Tabasco sauce)…
Everyone At Solutions 8 Has
Completed One Or More Of The Following Eight
Core-Discipline Certifications:
Breaks down the architecture behind an optimized marketing funnel that generates more leads and maximizes initial conversion values while simultaneously keeping customer acquisition costs to a minimum
DigitalMarketer's "value first" content plan takes an already essential part of digital marketing and turns it into a secret weapon that turns cold TOFU (Top of Funnel) leads into loyal, high-value, multi-purchasing BOFU (Bottom of Funnel) customers
Breaks down the architecture behind an optimized marketing funnel that generates more leads and maximizes initial conversion values while simultaneously keeping customer acquisition costs to a minimum
DigitalMarketer's "value first" content plan takes an already essential part of digital marketing and turns it into a secret weapon that turns cold TOFU (Top of Funnel) leads into loyal, high-value, multi-purchasing BOFU (Bottom of Funnel) customers

"Honest. Responsive. Intelligent. Three words you should look for in an agency or service provider. Solutions 8 is a solid agency. I've referred them multiple leads and have heard great feedback."
Chris Brewer
Co-Founder || OMG Commerce