PPC, SOLUTIONS 8
What To Do If Your Facebook Account Gets Disabled
Imagine:
You're running online traffic to a 31-day workshop—a big event where thought leaders gather and speak each day. 
50,000 people have opted in. 
Registration starts today.
You're about to run ads to everyone who opted in when:
Your Facebook account gets disabled. And you can't run ads.
What would you do?
Well, that's exactly what happened to us. 
Luckily, having friends who know their way around Facebook helped turn this nightmare into a somehow manageable situation.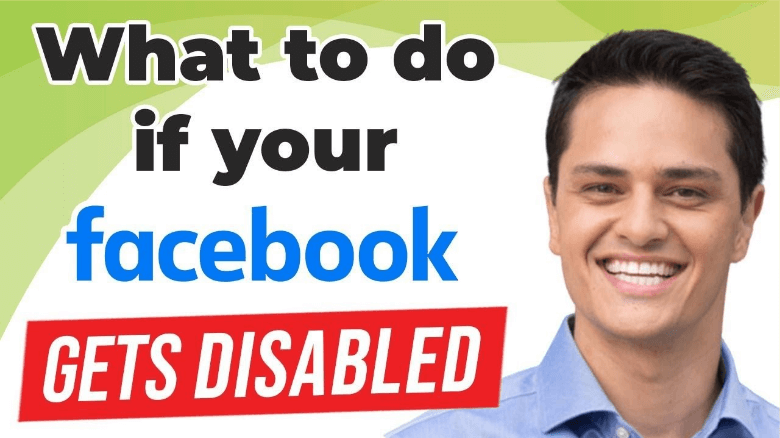 First things first…
Google Ads or Facebook Ads?
We've been asked this question many times.
If you follow our YouTube Channel or have gone through any of our courses like the 3X Shopify Challenge or You Vs Google, you probably already know we're not a big fan of Facebook ads. 
And there are a couple of reasons why: 
1. Intent Vs. Awareness
While both platforms are forms of pay-per-click advertising, the main difference between the two is in the type of product/service you're offering in conjunction with the stage of the funnel your target is currently in. 
For example, if your product is an intent-based product (something that people are actively searching for), Google Ads is far more likely to produce results than Facebook. 
Think about it: 
Where does your audience intentionally go to find a product or service they really need? 
Probably not Facebook.
See, Facebook users aren't looking for ads. In fact, 4 out of 10 social media users scroll past ads–they're looking for content from their friends, family, and social circles. 
And that's exactly why Google provides better results and conversions. 
The traffic you'll get from Google are more often users who are at the bottom of the funnel–they're problem-aware and solution-aware–they just need to know where to buy the product or service they need. 
However, if you have a new product that people aren't necessarily looking for and you want to build brand awareness and determine who your target market is, Facebook could be an option. 
But you can also do that on YouTube. Which brings me to my next point: the extent of your reach.
2. Reach
There's no denying that Facebook's reach is colossal. With over 2.6 billion monthly users, it's no wonder it's the second most widely used advertising platform on the internet.
Here's the caveat: 
Only Facebook users can see Facebook Ads. Facebook is an app. In order to see your ads, your audience has to create an account and log in–that's one of its limitations. 
With Google? Anyone can use it—with or without an account. 
Aside from that, Google is not just a search engine–it's a multi-faceted ecosystem with over 1.3 trillion global searches per year. 
Whether you're using Google search or not, if you're using any of Google's apps (Gmail, Google Drive, Google Maps, YouTube, and other apps) you're still under Google's umbrella.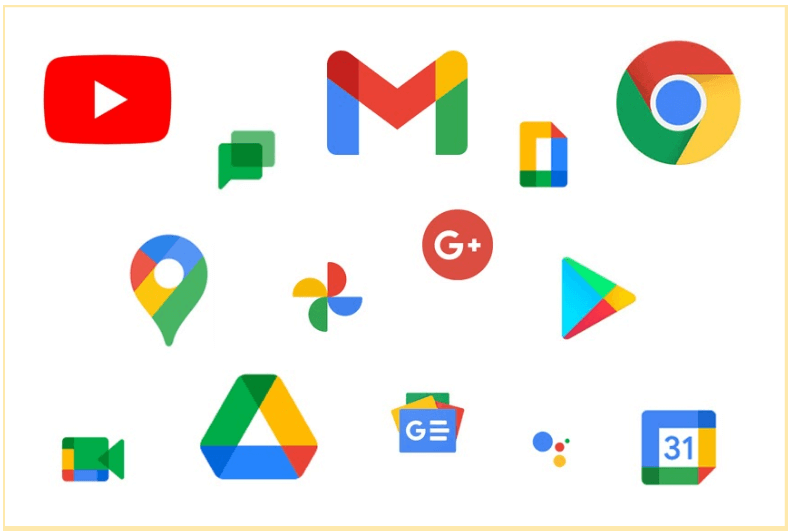 3. Data Acquisition
Want to know your users on a deeper level? One word: Search. 
It's a far more effective and reliable way to gather data and predict behavior. 
Unlike Facebook, which knows what you want people to think of you—Google knows who you are or who you're trying to be, just based on your search history.
Think of it this way: 
You'd probably show anybody your Facebook newsfeed. But you probably wouldn't want everyone to know your search history. 
That in itself is a better indicator of who the users are–a more accurate representation of your target audience.
But hey, just because we're not big on Facebook doesn't mean we'd hold back in giving you valuable information that you can use—like what to do if your Facebook account gets disabled 😉
So if you're ready to troubleshoot, read on.
Common reasons why Facebook might disable your account
First things first, let's discuss ways your Facebook ad account might get disabled in the first place:
Personal Attributes. Your ads must not have any content that implies personal attributes like a person's race, gender, religion, beliefs, gender identity, voting status, criminal record, and etc. 
Sexually Suggestive Content. Your ads must not have any adult content–anything that suggests or implies sexual activities, photos that show excessive skin and are sexual in nature, and images that have sexually suggestive poses. 
Facebook's Brands. This refers to Facebook's brand guidelines and proper usage. Your ads must not indicate a Facebook or Instagram endorsement of any kind and you must not use Facebook's copyrights and trademarks without permission.
These are some of the most common reasons why Facebook might reject your ad or disable your account. 
To find out more, we highly recommend reading Facebook's Ad Policies to get familiar with Facebook's rules and guidelines in posting ads.
What are some of the consequences of having your account disabled?
Some of the restrictions set by Facebook are:
Can't create or run ads
Can't use share audiences 
Can't use Facebook pixel, offline event sets or custom conversions
Can't use app SDKs to send app events
Now that you know the reasons why your Facebook account and the consequences you'll face once it happens, let's dive into how you can fix it and prevent your account from getting disabled or worse, getting banned.
The fastest way to fix disabled Facebook accounts: Start a live chat with Facebook business support
The best way to appeal your Facebook ad account if it's disabled is to speak with a representative. Here's how to initiate a live chat:
2. Scroll down the page. Under the "Still need help?" section, click on Get Started. 
3. Choose the ad account that's been disabled.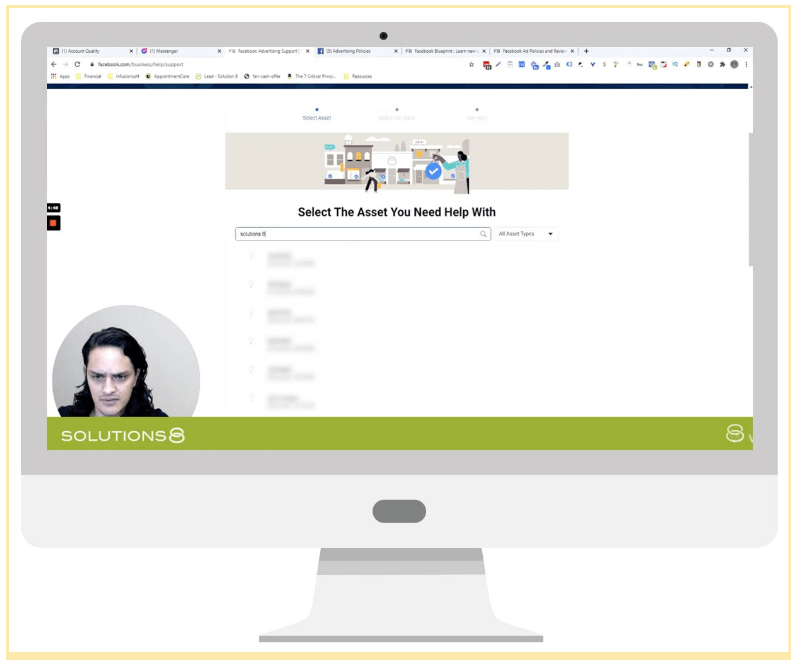 4. Select the issue by letting Facebook know what happened. Depending on the problem you've encountered or the type of help you need, there will be different options available to you. If you can't find the option you're looking for, choose "Other Business Manager Issue."
5. Click on Contact Support.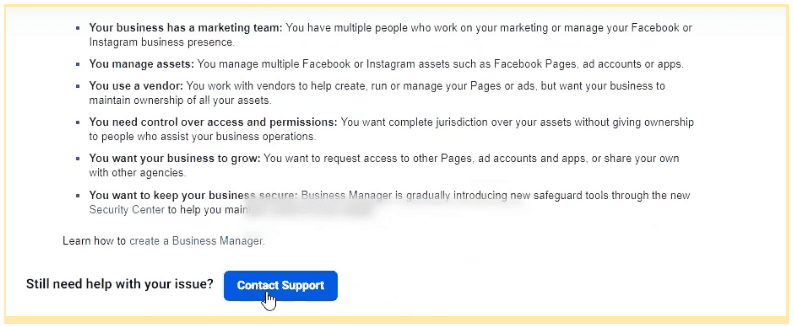 6. Fill out the form with your email address, phone number, and issue. It's also advisable to add screenshots of any error messages you received.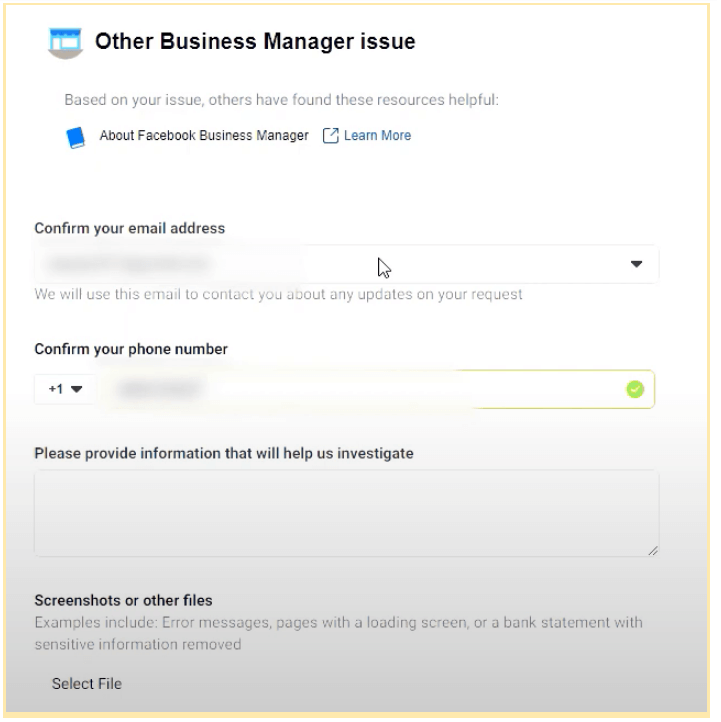 7. A Facebook Business Support will initiate a chat with you immediately. 
Extra tips that can accelerate the process
Be as detailed as possible. 
While the representatives are good at probing and asking questions to find out the cause and provide solutions for you, it would be a lot faster if you can give context and explain your situation thoroughly. 
Be polite to the representative you're speaking with. 
I get it. It's not easy to be calm and patient when you get in a frustrating situation like this. But being emotional will only get in the way of them solving your problem–especially since it's not their fault and they have nothing to do with it. 
Treating them like humans–or better yet, like friends, will certainly make things go smoother and faster, and will definitely turn things in your favor.
Always follow up.
In most cases, the representative should be able to fix your problem right there and then. But with hundreds, if not thousands of people queueing the chat line, it's not impossible for your concern to be less prioritized. So always check in and follow up with them as often as you can. It's okay to push as hard as you can for a resolution as long as it's done in a reasonable way.
Facebook Blueprint
If you're looking to build your knowledge in Facebook and explore the many options they have for digital marketing, you'll love their Learning Management System–Facebook Blueprint. It's a self-paced e-learning course that teaches the mechanics of Facebook. 
From digital advertising, buying options, to distributing and monetizing content and building communities, whether you're a beginner or intermediate, there is tons of content you can use for learning and understanding how Facebook works. 
Whether it's Google, Facebook, Instagram, or any other advertising platform, if you're going to spend a bunch of money on any network, you have to know it inside-out. Not understanding how the networks function will only make it harder for you to use it.
We're not "experts" in Facebook and other social media platforms. But if you're planning to use Google Ads, we've got tons of content that will help you get started. 
Check out our YouTube channel and browse through hundreds of Google Ads topics that will help you grow your business. 

"Glad to have met the team at Solutions 8. Their creative minds have really given our business the competitive edge we needed through digital marketing. I highly recommend Solutions 8 for their creativity and personal attention, I can't say enough about how EXCELLENT Soultions 8 is!"
Tim Lyons
Founder || ProFit Marketing Solutions
Two-time "Two Comma Club Award" Recipient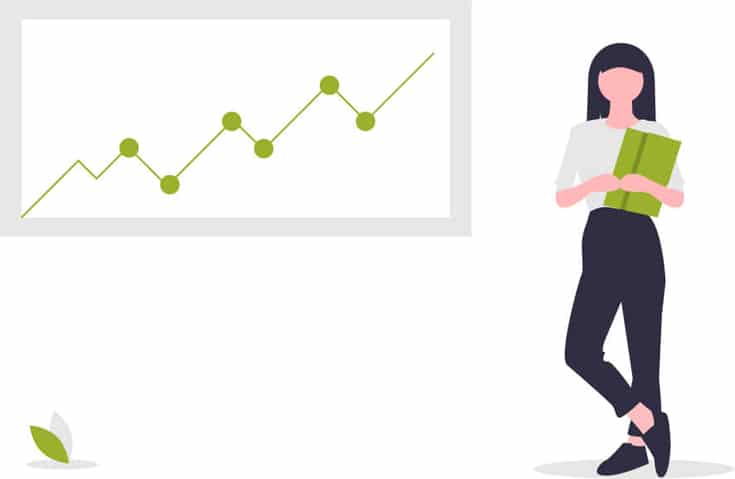 Interested to work with us?
Let us show you exactly how with a FREE PPC action plan.
No cost. No obligation. No high-pressure salesmanship. The action plan is yours to keep regardless of whether or not you choose to move forward with us. What do you have to lose?