PPC, SOLUTIONS 8
How to Set Up Custom Audiences in Google Analytics to Use in Your Google Ads Campaigns (Free Guide!)
Google Analytics gives you the ability to track people who visit your site. You probably already know that. 
But what if I tell you that you can create a custom audience inside Google Analytics and track users who visited a page on your site…
So you can push them to Google Ads for remarketing?
That's right! You can set specific rules–like creating a list of people who downloaded a lead magnet or viewed your product page–and target those people using Google Ads.
Better segmentation equals more relevant messages.
And when your message connects with your user at the right time–you get yourself a conversion!
So, brace yourself. In this post, you're going to learn how to set up a custom audience in Google Analytics, step-by-step.
Get a copy of this guide for FREE! Just enter your email below.
1. Log in to your Analytics account
Search for Google Analytics on Google or go to https://analytics.google.com/. If you're already logged in, it should automatically redirect you to your account. If not, you'll have to sign in using your account's email address. 
2. Go to Admin
Once you're logged in, click the pinwheel icon that says "Admin." You can find this at the bottom left corner of your window.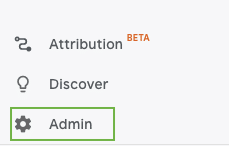 You should see three columns: Account, Property, and View.
The "account" section shows which account you're using while the Property shows the site under each account. Just ignore "View" for now.
3. Select Property > Audience Definitions > Audiences
This is where we'll create your Custom Audiences.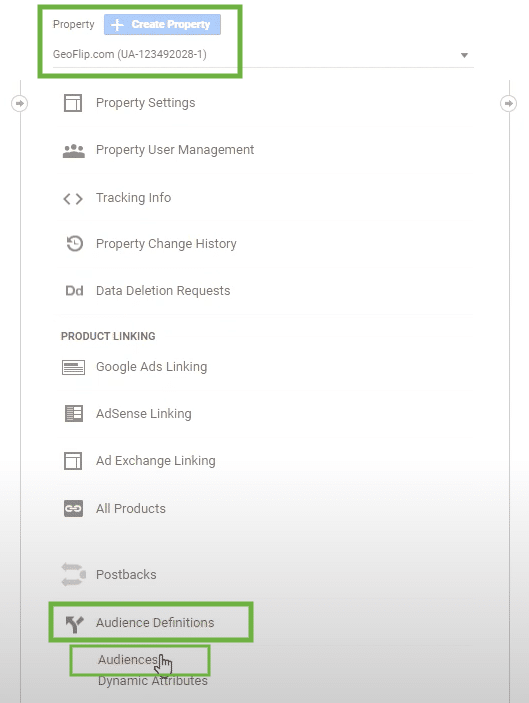 4. Click the +New Audience button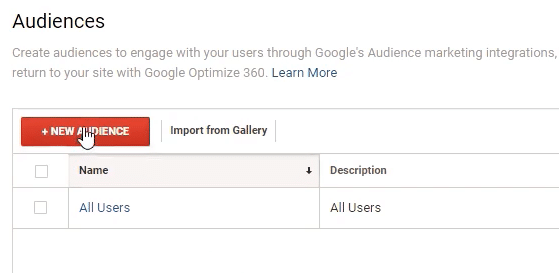 You'll see a bunch of options:
Smart List: The way this functions is like Facebook's look-alike audience. Google applies machine learning to determine users that are likely to convert and then finds more of those users. Read more about Smart Lists here.


All Users: This is the default setting, it's used for generic marketing.


New Users: This targets users who have gone to your site once.


Returning Users: This targets people who've been to your site more than once.


Users who visited a specific section of my site. If you want to target users who visited a specific page on your site, choose this option. We're going to explore this option in a bit.


Users who completed a transaction: This targets only the specific users who purchased from you.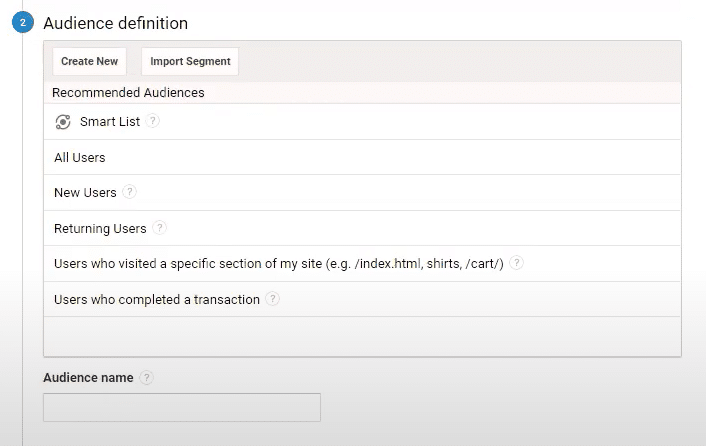 5. Select users who visited a specific section of my site
Since we're building a custom audience of users who visited a specific page on your site, you have to choose 'users who visited a specific section of my site.' This allows you to customize exactly which page you want to track, how long should you keep tracking, and the demographic and behavior of those users.
Users over last 7 days
This shows you how many users apply to your rule. As you can see in the image below, the only rule we've set is that the page contains "/", and it's applicable to 26 users at the moment.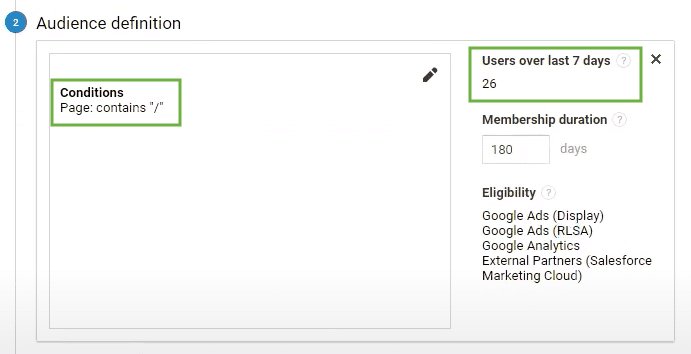 Once you set your rules, they'll show in this same section. We'll visit this section again after we finish setting up your new custom audience.
Membership Duration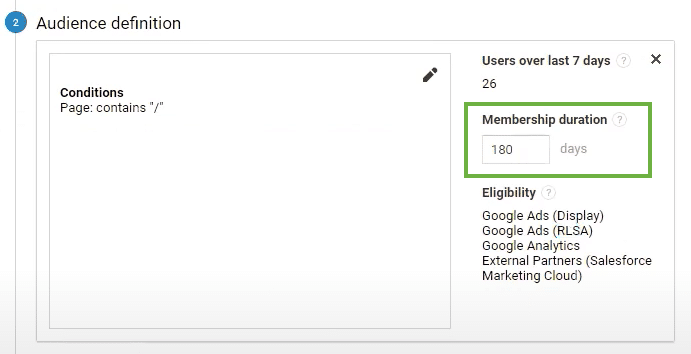 By default, this is set to 30 days. But you can also set it to a maximum of 540 days. However, keep in mind that just because you can max it out, doesn't mean it's always the right (or better) thing to do. 
Think about your users' intent, interests, and sales cycle. You probably won't need to use the max duration if your users aren't going to stay that long. 
For example, if you're marketing for real estate agents, most people won't be looking for houses within 1.5 years. They would typically search and purchase houses in less than 90 days.
So…how long should you set the duration for?
If you really have no idea, use 180 days. Better yet, build two audiences and test them together (if you have enough traffic, that is.) 
Pro tip: Every time you see "Learn More" in Google, always click on it. Their "Help" articles are outlined so well, with straightforward explanations of how things work. If you've ever wondered how we know so much about Google–this is what keeps us on our toes. 😉
Get a copy of this guide for FREE! Just enter your email below.
Eligibility
This shows you where you can use this custom audience for.
Google Ads (Display): This is probably the most common place where you can use your audience for. In general, this is where we usually run remarketing. 
Google Ads (RLSA): Also known as 'remarketing lists for search ads', this is an amazing feature. It helps you catch those people who have been to your site and searched for one of the keywords you're bidding on. Learn more about how it works here.
Google Analytics: This is what we're currently using.
External Partners (Salesforce, Marketing Cloud): For those who are using Salesforce or Marketing Cloud to track leads.
6. Click the "Pencil icon" and you'll get to the Audience Builder.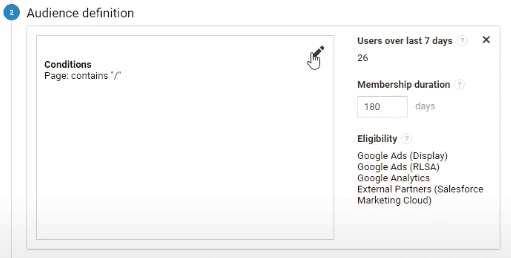 Audience Builder
Demographics
Only make adjustments here if you are absolutely sure that you know your audience well. For example, if you only work with females, then choose "female." If you're accepting both male and females, then it's best to leave "females" unchecked. The same goes for other options.
Technology
Sessions: You can begin building an audience based off of your users' total number of sessions–using a date range. 
Days Since Last Session: This means the number of days that passed since your users last viewed your site. Sometimes, remarketing is best done when they've had an opportunity to think about your product. 
Pro Tip: If you want to put a better offer for them (e.g. discount your products or services), you can use this segmentation to entice them to get your offer.
Transaction: This is the number of your users' purchases and other campaigns that may have led to a purchase.
Duration: This is the amount of time your users spend on your site.
Date of First Session
This allows you to filter your users based on the time they first visited your site. If you've made changes and you want to filter out the 'before' and 'after', this is where you do it.
Traffic Sources
One of the biggest mistakes that people make is sending the same remarketing message to all their users. Doing that makes your message irrelevant because your users may have different needs and pain points, depending on where they are in the customer journey. 
One of the many ways to avoid making this mistake is to use traffic sources as a way to segment your users based on where they're coming from and what they did on your site.
Advanced Conditions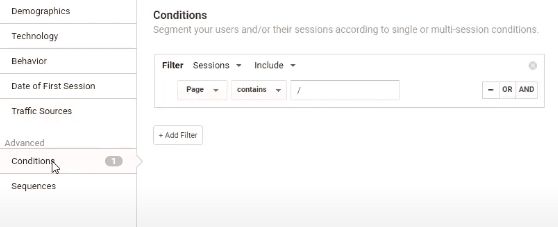 This section is our favorite. You can segment your users based on different dimensions and there are tons of options to choose from and get hyper-specific on how you want to filter your users.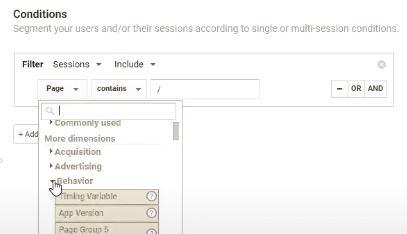 However, we're only going to talk about the most common filter that we use: by page.
 First off, you can build these filters by session or by user. And it's really simple. 
'By user' means if your users come back to your site and meet the rules you set, then they are added to this audience.  
'By session' means your users have to meet the criteria you set in that session. For example, you have a sales narrative and your users have to meet different rules all at once within the same session.
We'll use 'by user' for now. 

When you filter by 'page', this means the rules you set apply to a specific page on your site. But be careful. If you use 'contains' to indicate a specific page, if you have other pages that contain the same text, it'll be applied to all of them. 
For example, if you want the rule to apply on your "thank you" page but you have several thank you pages like:
/Thank-you-for-subscribing
/Thank-you-for-downloading
/Thank-you-for-purchasing 
Using 'exact matches' might be better if you're only targeting one specific page. But you have to be careful–one stray keystroke and it's over. 
Bottomline: Think about how the rule works and what its implications are first before you set them. 
Next, you can use either 'include' or 'exclude' depending on whether you want to consider the page or not.
And finally, use 'or' if you want the rule to apply to at least one of the pages. Use 'and' if you want both rules to be met.
For example, you might want to target those people who have either downloaded or subscribed to your email AND purchased something. This is what it might look like:

Alternatively, you can also 'exclude' users who visited specific pages.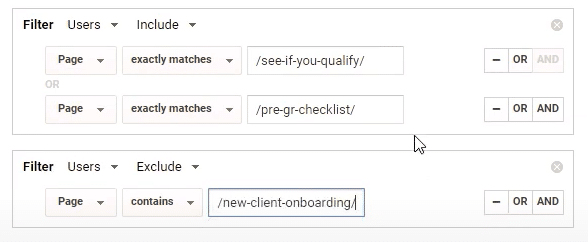 As you can see in the image above, we wanted to include users who visited our qualifications page or downloaded a checklist. But if they visited our onboarding page, then that means they already signed up–and we need to exclude our own clients. 
Once you've set your Audience Builder, click Apply.
You'll see the overview of the settings you created. One thing to remember here is that you might want to check "Permanently remove users when they match the Exclude condition" if it's applicable.
This makes sure that the user who has bought your product or signed up for your services won't get the same message anymore–they'll be excluded from this list. 
Don't forget to name your audience. Pick a name that's easy to remember and relevant to the audience. 
For example, "Interest Real Estate, non-converters" or "Interest RE, non-converters." 
And that's how you build custom audiences inside of Google Analytics. Make sure that your Google Analytics is connected to your Google Ads so you can use remarketing.
Want to get a permanent copy of this guide (for FREE)? Enter your email below.
Want to get more tutorials like this? Head over to our YouTube channel! We literally shoot a video every single day to give you the latest news, updates, strategies, and step-by-step tutorials about everything Google! 

"Glad to have met the team at Solutions 8. Their creative minds have really given our business the competitive edge we needed through digital marketing. I highly recommend Solutions 8 for their creativity and personal attention, I can't say enough about how EXCELLENT Soultions 8 is!"
Tim Lyons
Founder || ProFit Marketing Solutions
Two-time "Two Comma Club Award" Recipient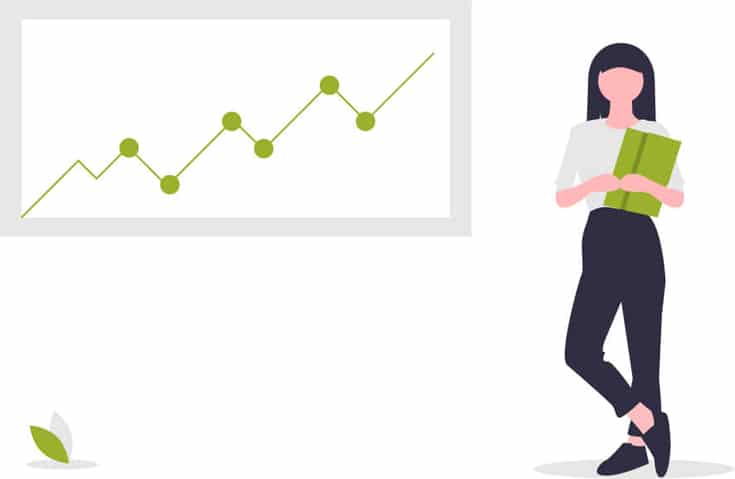 Interested to work with us?
Let us show you exactly how with a FREE PPC action plan.
No cost. No obligation. No high-pressure salesmanship. The action plan is yours to keep regardless of whether or not you choose to move forward with us. What do you have to lose?