PPC, SOLUTIONS 8
Solutions 8 Assistant Controller Lori Dunn Is Not Afraid to Take the Road Less Traveled (As Long As it Doesn't Involve Flying)
Full disclosure: Lori almost didn't join the Solutions 8 team; she thought Kasim's email was spam and pretty much ignored him. "Thank goodness I decided to open it!" she told me.
According to Lori, her job as assistant controller is to make sure our clients pay us so the rest of us can focus on "doing our thing" to make them happy… but I suspect she does a lot more than that and is just being modest. (Heck, she processes our payroll, so clearly she's one of the most important people on our constantly growing team.)
"I'm a bit of a perfectionist when it comes to my work and having things organized," Lori confessed to me. "Working with numbers makes you use those skills a lot!"
Of course, this is a far cry from the first job she ever had. 
Lori was a parking lot attendant for the Texas Rangers—which you might not think of as a dream gig, but for Lori it was a pretty sweet way to spend the season. You see, her love of baseball began at the age of eight, when her dad took her to her very first Rangers game. After that, she was hooked.
Throughout high school, her number-loving brain came in handy while keeping stats for the school team (MLB scouts would ask her for player stats, how cool is that?) and ultimately she became a public relations intern for her favorite team. Though she says her dream at one time was to become the first female baseball general manager, Lori confessed that life, as it often does, "took me elsewhere." Side note: We're really glad it did.
The baseball bug stuck though, and Lori and her husband and two girls are still a baseball family, though they all got a crash course in softball when their two girls took up the sport early on. Said Lori, "We pretty much follow softball way more than baseball now, since our oldest has continued to play college softball and my youngest wants to follow in her big sister's footsteps."
And speaking of that beautiful family of hers…
Lori has been married to the love of her life, her husband Eric, for 15 years now. She says they met at work, became best friends through their love of sports, and one day "thought it'd be awesome to share everything in life together." (Where's that adorable Kristen Bell gif when you need it?)
Together, Lori and Eric have two "beautiful, amazing, talented, down-to-earth girls that I can't say enough about," says Lori. Jessi, the oldest, is in college and hopes to one day be a naturopathic doctor. Kacey, her younger sister, is in eighth grade and homeschooled—and apparently already has her top five colleges picked out. (Who runs the world? GIRLS.) She loves to read and write and plans to major in English… a girl after my own heart!
As for the four-legged members of the family, Lori calls 11-year-old Leo, a Corgi/German Shepherd mix, her fur baby. "He loves us all, but I'm definitely his person." Daughter Jessi has a 3-year-old mini Holland lop bunny named Honey, though she occasionally goes by Oreo, Honey Bun Bun, and Crazy Legs. (Apparently, Honey's favorite person is anyone who brings her fresh veggies.) And finally, daughter Kacey has a sweet little pup named Violet, with whom they've all fallen in love.
Although Lori grew up in Grand Prairie, Texas—the same hometown as Selena Gomez and Olympic Gold Medalist Jennifer McFalls—in 2013 the family moved to Arizona. She says she enjoys it, but she misses hanging out on her front porch and chatting with her neighbors like they did back in Texas.
Not surprisingly, she's just as busy outside of work. 
As the self-proclaimed "handy one in the family," Lori loves tackling DIY projects and anything that allows her to a.) put her woodworking skills to work, and b.) buy new tools! She loves watching home renovation shows on HGTV because she enjoys seeing what a little paint and a few updates will do. Truth be told, she could max out her credit card at any home décor or furnishing store, but especially Magnolia Market at the Silos because she loves watching Chip and Joanna Gaines on Fixer Upper.
Lori also learned to sew a few years back and enjoys making blankets, curtains, pillow covers, you name it. She calls these "simple things" but let's be honest, most of us can't just whip up a Bed Bath & Beyond catalog in our spare time. And did I mention she loves to cook and bake? And prefers making everything from scratch?? If you're feeling inadequate right now, you're not the only one.
On top of all of that, she loves watching her girls play sports—which, if you've ever had a kid play team sports, you know involves quite a bit of traveling. Lori says travel has been a big part of their lives since Jessi was eight and joined a travel softball team. But even though a lot of their travel revolves around softball, they also make time for plenty of family excursions. "The last few years we spent traveling for softball, and I tried to make them family vacations in between game days," Lori told me. (Be sure to ask her about their bear encounter in the Colorado Rockies.)
Lori also gave me one of the best reading recommendations I've heard in a while. 
She recently finished a book called, Vibrational Nutrition: Understanding the Energetic Signature of Foods, which she says is an interesting read if you are into holistic health approaches. (Bonus: It's got recipes!)
"I am working on adapting our meals to help Jessi with what she is learning and to find out how what we eat affects us," Lori told me. "This book, as well as others in the naturopathic realm, have helped me be able to make some changes with our food which helps us have more energy, better moods on a daily basis, as well as helps Jessi with training her mind and body so she is mentally and physically in better shape for herself as well as for her sport."
#1 Mom for the win!
Things Lori doesn't like?
Heights
Roller coasters (she nearly passed out on one once)
Flying (only if it's absolutely necessary)
Snakes, scorpions, and geckos
And yes, she understands the irony of living in Arizona even though she loathes small, slithery, and potentially sting-y things.
Honestly? Lori had so many stories I could go on and on. 
Maybe when Kacey gets older she can help mom write a book about them all, including how Lori played soccer (not baseball) in college and was being recruited for a D1 school but opted for a work promotion instead. "If I hadn't taken that route, I may not be where I am today," she reminisced. "I'm a firm believer that everything happens for a reason and sometimes we don't get to find out why things happen, but you should always take the time to enjoy where you are and the opportunities you have been given."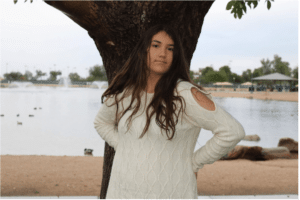 There was also the time that Lori was waiting in a hospital ER lobby after Jessi had been in a car accident. She told me a man came in and started chatting with her, and she immediately felt the need to keep him talking. As the hours passed, he eventually opened up and shared that not only did he lose his wife a few months prior, but that he had recently fallen off the wagon and wasn't sure he wanted to continue living. Lori asked him what his wife would want him to do, to which he replied, "Without a doubt, she'd want me to live." She said, "Well, there you go… now go and enjoy life."
Even if she is upset or having a bad day, Lori still treats others kindly. Why? Because, she told me, "If you have the opportunity to be the sunshine in someone's darkest day, why not?" I'm going to carry those words with me for a long, long time.