PPC, SOLUTIONS 8
Solutions 8 Employee Spotlight: Karla Socci Somers Talks Tattoos, Tradizione and Taking Time for the Things You Love
I think what struck me most about talking to Solutions 8 Content Writer Karla Socci Somers was that I could have kept talking to her for hours. Sure, okay, she IS a fellow writer and we DO tend to have the best stories, but Karla might just take the cake.
Where do I even begin?
Really it was a toss-up between the homemade pasta sauce business and the tattoo, but the tattoo won by a slight margin. (What can I say? I like ink.)
Karla's favorite painting is The Starry Night by van Gogh, which is why you'll catch a glimpse of a moon-and-stars scene on her ankle—but that's not even the best part. The moon also represents the moment she was born, which just happens to be when Neil Armstrong and Buzz Aldrin were standing on the moon. How. cool. is. that?
At the time, her family was living in Auburn, a small town in upstate New York where her grandparents settled after coming to the United States from Italy and where her parents then stayed to raise their own family. Karla calls it a multigenerational town, a place where kids go to the same schools their parents went to and everyone knows everyone else. "It's a great place to grow up. It's still very much in my heart," she told me. Though she lives in the South these days, she still goes back to visit every chance she gets.
Now, about that pasta sauce.
Unless you're Italian, you may never truly understand the power of food to bring a family together. If we didn't invent the Sunday dinner, we sure as heck kicked it up a notch—and don't even get me started on holidays.
Karla knows what I'm talking about; her grandparents Anthony and Louise Socci were the inspiration behind Socci Sauce, a family business founded by Karla and her dad after enough people finally convinced them the passed-down-for-generations sauce recipe was so good they should bottle it and sell it.
Today, you can get Socci Sauce made exactly the same way Grandma and Grandpa Socci used to make it—with only natural ingredients and a whole lotta love and tradizione (tradition). Side note: Karla's dream vacay would be to visit Campobasso, Italy, where her family is originally from. She told me there are lots of Soccis still living there!
And speaking of family, check out this ridiculously cute foursome:
From left to right are Albie, Karla, and daughters Antonia—apparently famous for her pre-teen eye rolls—and Emma. Karla is never short on extended family either, with mom and dad close by and Albie's family also in the area.
"I wouldn't know what to do without a bunch of relatives around!"
And, because there was no way I could leave out a four-legged member of the family, meet Karla's white lab, Maya: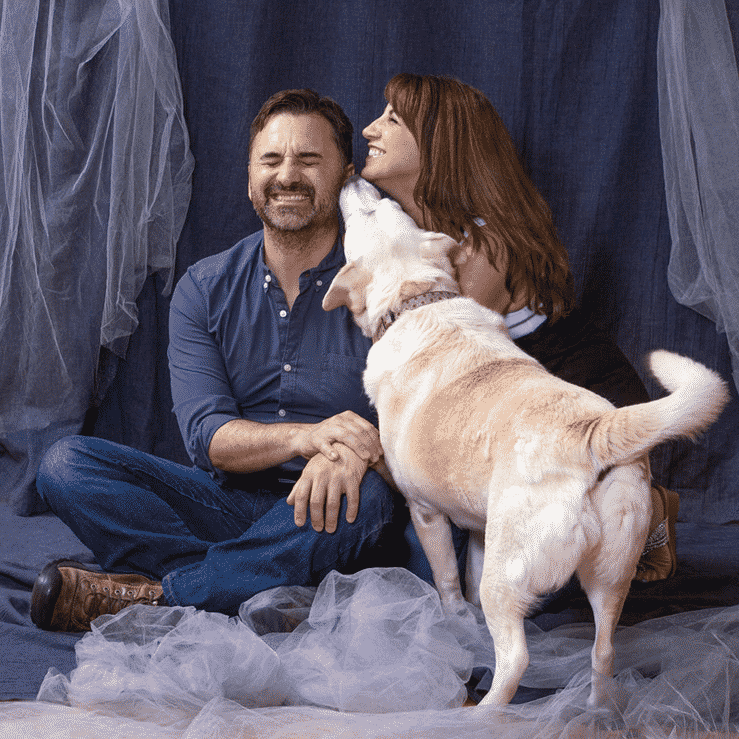 (Pause for a dozen heart-eye emojis and the proper amount of aaawwws.)
Karla calls Maya her Velcro dog because she "follows me everywhere, all day" and keeps her company while she works. It must be a pretty good arrangement, because Karla is hands-down phenomenal at her job.
Once, she received an email from a fan at a digital marketing agency in Brussels (yep, Belgium).
He told her, "I just read your article about 'Digital Marketing Trends for 2018: What You Should Be Excited About Now' on Solutions 8 and I couldn't waste any time in reaching out. Kudos on a fantastic post." She said it was her proudest Solutions 8 moment so far, but I have a feeling there are lots more to come.
And because we can't get through one of these blogs without mentioning how cool our co-workers are, Karla says the best part about her job is the awesomely collaborative Solutions 8 team. "They get my sense of humor, and together we create some great content and marketing solutions." We do, indeed. On both counts.
Of course, if she had her dream job, Karla would be a Rockette. She loves dancing.
Unfortunately, she missed the height requirement for Radio City, so instead she finds other ways to indulge her passion. Most recently, you can find her taking belly dance classes. "I've been dancing all my life, and for the last eight or nine years I've had the privilege of learning a new art form and the many styles of belly dancing. I get to perform occasionally, too!"
And it looks like the dance bug is hereditary, because Karla also spends a fair amount of time driving Antonia-of-the-endless-eye-rolls to and from dance classes, rehearsals and competitions. But don't worry—Karla says she's not one of those dance moms. (Shudder.)
Of course, every now and then she does something other than work or dance.
When she does have a little free time, you can find Karla spending it with her family—visiting local parks, taking Maya for walks, and planning day trips to discover new adventures. "Albie and I love to try out new restaurants and see new places, anywhere we can drive for a day to explore."
Which seems like a fitting way to wrap up this post and fit in one of Karla's favorite movie quotes from National Lampoon's Christmas Vacation:
"It's all part of the experience, honey."