Expand and Scale Your Business with Premier Google Ads Services
Simple, transparent pricing

No long-term contracts
There are tons of agencies out there that offer "cheap" services. They might be good for your budget, but they're bad for your business. Here's why:
They lack knowledge and experience.
Training and hiring Google Ads experts cost (a lot of) time and money.
Agencies that offer cheap services won't have enough resources they need to give you people who know Google Ads inside-out. 
Which means…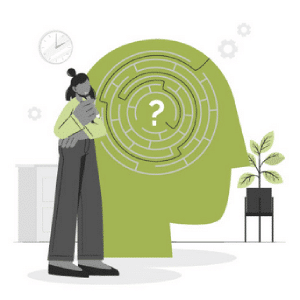 They can't solve unexpected problems.
Google is packed with unforeseen challenges that can't be solved by just pressing buttons. It's all about the right strategy, timing, and expert judgment. 
Amateurs hired by cheap agencies don't have the skill set to anticipate and handle all the obstacles that come up.
Most of the time…
They'll leave your campaigns on autopilot.
Running and managing profitable Google Ads campaigns require a dedicated team to track, adjust, test, and optimize your campaigns.
Cheap PPC agencies don't have teams to cover everything your business needs. As a result, the quality of Google Ads management is compromised.
Instead of earning huge profits, you get more headaches and wasted ad spend.
"If you think it's expensive to hire a professional to do the job, wait until you hire an amateur."
At Solutions 8, You Get Maximum Return on Every Dollar You Spend 
Everything we do is directed towards one goal: To make you MORE money. 
Our team uses proven SOPs and strategies to make sure your campaign becomes profitable and ready for scaling.
We hire and train only the best of the best. That means you get your own team of Google Ads experts which includes a dedicated client manager, specialist (and a back-up specialist), strategist, data analyst, call quality analyst, and ad copywriter.
Thorough Onboarding and Client Management Process
Know exactly what's happening in your account, what we're doing on our end, and what results to expect. Our account management process includes continuous account reviews and check-ins (daily, weekly, and monthly) so you'll never be left in the dark. 
Certified Google Premier Partners
Being the top 3% Google Ads agency in the world means we know what we're doing. We follow Google Ads' best practices and effective strategies. The outcome? Deadlines are met, campaigns are well-optimized, and your goals are reached.
Complete Strategy and Setup
From Google Ads account creation and restructure to advanced bid management – with real-time tracking and campaign monitoring…

We'll take care of everything you need to produce consistent high-performing results.
Other premier agencies charge 35% of ad spend and more. Among the best, we're the most affordable. 
Plus, no hourly billing, no long-term contracts, and you retain full ownership of all applicable intellectual property.
Curious to find out what your fees look like? Use our pricing calculator!
Add your monthly Google Ads budget below
Fees are calculated on a monthly basis and
billed according to ad budget
, not ad spend. Ad spend fees are billed on a sliding scale. Meaning, the
ad spend %
shown isn't applied to the entire ad budget. Instead, the ad spend %
changes only after specific thresholds are met
. To understand how our pricing works, check out our pricing table below.
Tiers
represent the category your ad budget belongs to. Each tier has a
budget range
,
percentage fee
, and
monthly fee
.
Monthly & Percentage Fee
. We ch
arge a fixed monthly and percentage fee that covers all the resources we need to get the job done and grow your business.
Read more about our billing process here.
Monthly Fees: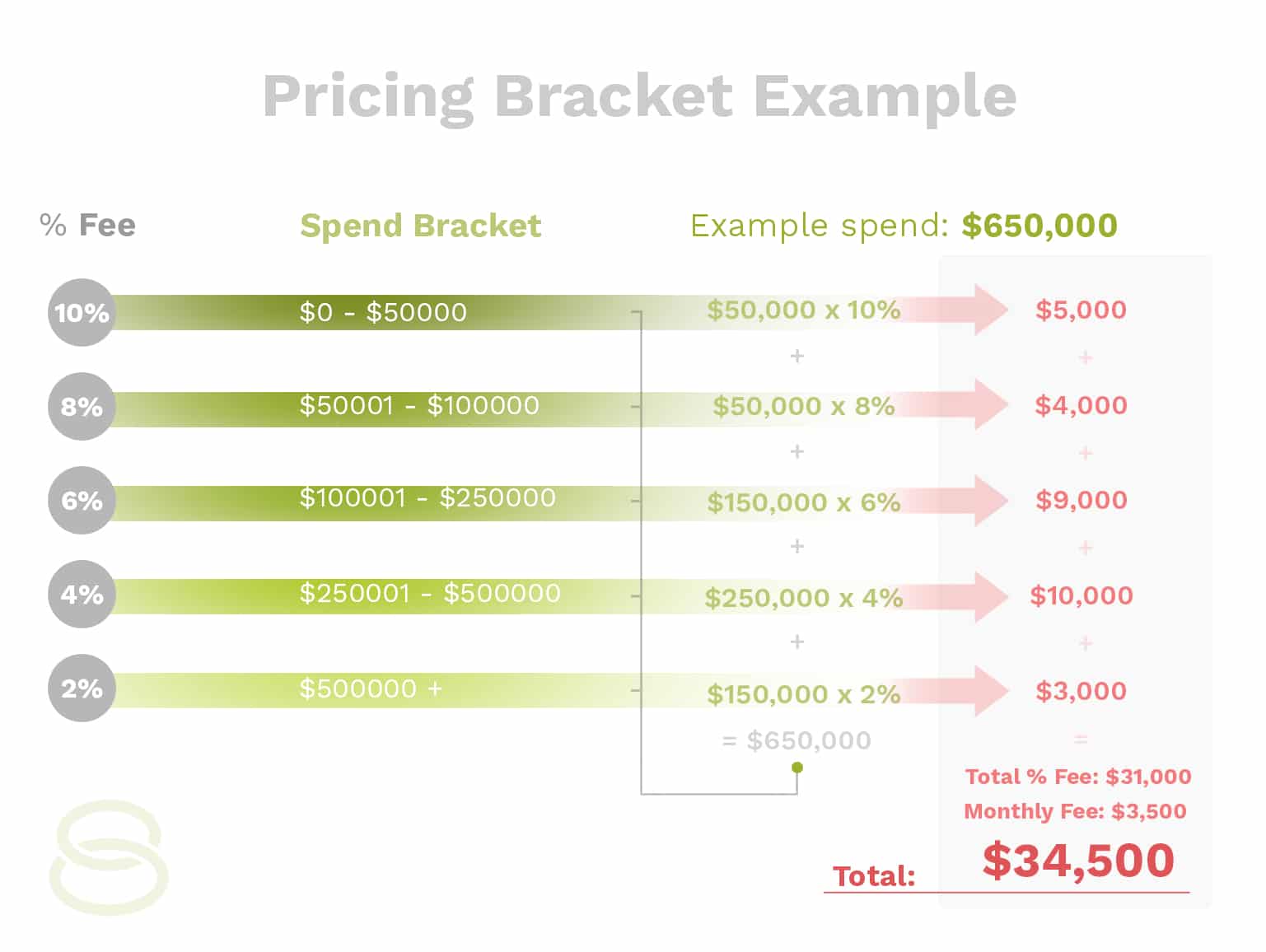 Why We Don't Offer Discounts
You wouldn't be a good business owner if you didn't ask for a discount. But here's the thing – our business revolves around humans, not products. 
Because we're in the labor business, our agency is based on the prowess and proficiency of people. 
Even though we hire the best of the best, our resources are not scalable. And with the number of leads we have right now, there are only so many accounts our resources can take. 
Charging less means limiting our resources and putting a cap on your business' growth. 
If your budget stops you from growing your business, this might be what you need.
Know someone who needs Google Ads services? Partner with us and get paid for every prospective client you refer.
It's simple and straightforward. Just refer at least 3 clients within a 12-months period and you'll get 10% for every prospective client.
#1 You Make an Introduction
If you're a Solutions 8 client, all you have to do is send an email introducing us to a new, prospective client. We'll make a note in our database that you made the referral.
Once your referral signs on as a Solutions 8 client, you'll receive a 10% commission off their monthly payments for the first twelve months. When they pay, you get paid.
Are you an agency that's looking to add more value to your clients without doing all the hard work?
Our whitelabel services let you provide premium Google Ads whitelabel services to your clients, at a reduced cost.
What You Get:
✔ 20% off of our retail price. Rather than spending time and money on research, training, and manpower, we take care of all your PPC advertising efforts while you take advantage of expert Google Ads services. 
✔ Complete Google Ads services. From launching to managing your clients' campaigns, we do nearly everything except connecting with your client. 
✔ Dedicated account manager to help you field questions as well as offer insights and thought leadership. If a client ever asks you a question you're not sure of the answer to, it's as simple as saying, "Let me check with my team!"
✔ No client interaction. We won't connect with your clients or join any client-facing sales or strategy calls. 
✔ No personal or business accounts. All management is handled through our white label (non-branded) accounts; this allows us to follow our well-defined processes as well as ensure the proper layer of checks and balances.
Requirements: ✔ Minimum of 3 clients. ✔ 90-day commitment for all new clients.
You handle your clients, we handle the work. 
Need more information about our White Label Services? Click here.