PPC, SOLUTIONS 8
New Internal Performance Max Strategy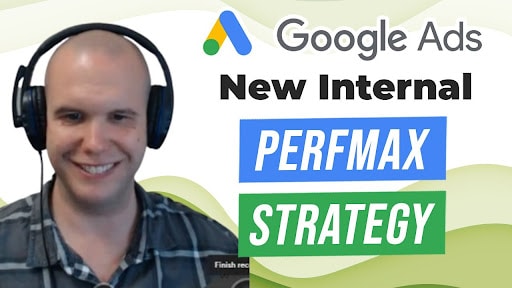 Why you need to regularly check your Insights Tab
If you haven't checked out the new Insights Tab inside Google Ads yet, you're missing out on tons of valuable information.
It can help you identify who your audiences are based on what the market says.
This is important because some audiences might look irrelevant to your product or services, but because you're looking at real data, that won't matter anymore. 
For example, one of our clients is a company selling hot sauces. A relevant audience segment might be BBQs & Grills, Restaurant Delivery & Takeout, and Condiments & Sauces. 
However, the Insights tab showed Women's Apparel in their top five segments. 
Doesn't make sense, right? 
The truth is, it doesn't matter. 
We don't need to find a connection between "Women's Apparel" and our client's products. 
What's important is Google is now giving us additional audiences outside of the audiences we've chosen to target. 
What does it have to do with this strategy? 
Knowing more about who your audiences are gives you more information on how to optimize your campaigns! 
Here's what I mean: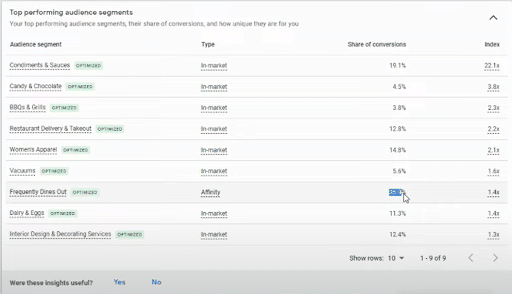 When we looked at our Top performing audience segments, we saw an Affinity segment called Frequently Dines Out.
According to Google Ads Help, the Affinity segment works by reaching users based on what they're passionate about and their habits and interests.
(Learn more about audience targeting and audience segment types here.)
What's interesting is Frequently Dines Out has the highest share of conversions among all other segments – a whopping 35.9%!  
Knowing this, we used the information available to us and optimized our campaign.
How to optimizing your campaigns using the data from Insights Tab
The insights tab is there to give you an overview of the audiences and themes around your products or services. 
Using what we learned, we created a new asset group only for the Frequently Dines Out audience. 

Now, although it was a new asset group (with a new audience signal: Frequently Dines Out), we used the same assets and were able to improve our campaign's results in just three days.  
You might ask, "Shouldn't we be tailoring the assets according to that audience?"
Yes, that's the best practice. But there are times when you might want to just utilize the same assets, especially if you don't have enough assets to work with.
Just remember – always test your assets for the audience. Whatever the result is will dictate your next best strategy. 
For example, if the campaign doesn't pick up right away, you can try swapping out assets. 
We started running it on February 20th, 2022. Here's a quick comparison between February 16th – February 23rd.  
Return On Ad Spend (ROAS)
Our ROAS increased from 89.71% to 221.05%.
Conversions
Our conversions increased from 2300% to 2597%.
Conversion Value
Our conversion value jumped from 750.30 to 2,012.58.
As you can see, by creating a separate asset group for the Frequently Dines Out audience, we've increased our campaign's performance in a short period of time. 
All this wouldn't have happened had we not paid attention to the Insights Tab. 
Bottomline
Performance Max is the very first goal-oriented campaign type in the history of digital marketing. 
It accomplishes your goal with the audience, assets, and pages you provide. With the help of the Insights Tab, you can modify your assets based on what works best for your audiences.
As long as you keep your eyes on the Insights tab and continue to build, you'll have more control over your campaigns and get better results with your ads.
Want to keep regular updates with everything Google Ads and Performance Max? Check out our YouTube channel! Just click the link below to subscribe.


"Glad to have met the team at Solutions 8. Their creative minds have really given our business the competitive edge we needed through digital marketing. I highly recommend Solutions 8 for their creativity and personal attention, I can't say enough about how EXCELLENT Soultions 8 is!"
Tim Lyons
Founder || ProFit Marketing Solutions
Two-time "Two Comma Club Award" Recipient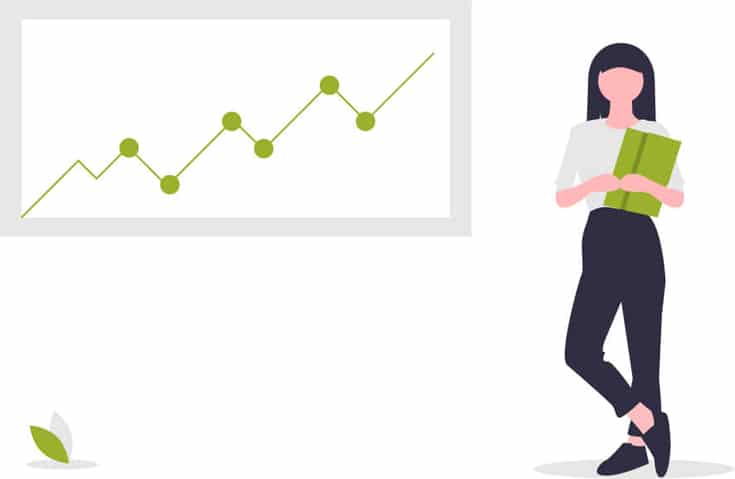 Interested to work with us?
Let us show you exactly how with a FREE PPC action plan.
No cost. No obligation. No high-pressure salesmanship. The action plan is yours to keep regardless of whether or not you choose to move forward with us. What do you have to lose?