PPC, SOLUTIONS 8
Google Ads Performance Max | A Broad Overview
In the last year or so, we saw Google cutting out feature after feature in Google Ads. And it was squeezing us out of all visibility and control.
What we didn't know is Google was building out one of the most amazing campaigns in the history of advertising – Google Ads Performance Max.
We've talked about why Google Smart Shopping is the most powerful eCommerce advertising tool.
Well, Performance Max offers even better control, audience signals, and customer reach.
In this post we're going to give you an overview of Google Ads Performance Max, and why you should use it.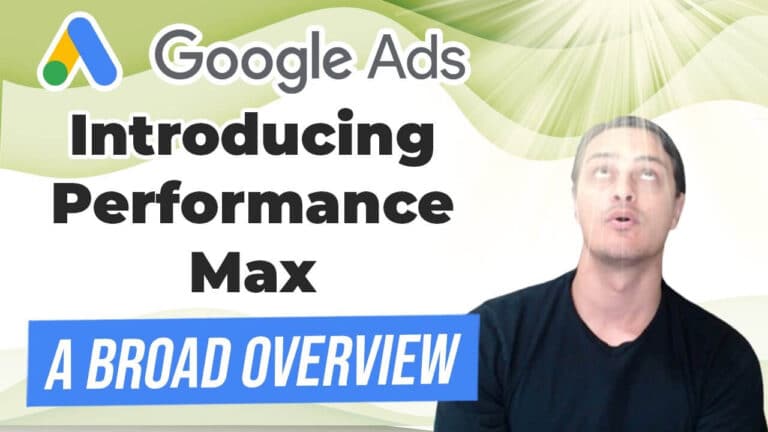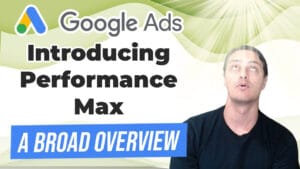 In a nutshell, Performance Max is the latest campaign type in Google Ads.
It's a goal-based campaign that helps you drive more conversions across Google's channels––YouTube, Display, Search, Discover, Gmail, and Maps.
Plus, it's also audience-oriented.
Choose your goal and Performance Max figures out how to get you that goal with the audience you choose.
Setting up Performance Max is almost the same as creating any other campaigns in Google Ads. You define the parameters, set it off, and it comes back telling you what they've learned.
Then, you adjust the parameters again to optimize your campaign.
Things you need to know about Performance Max
Performance max is best run alongside other campaigns.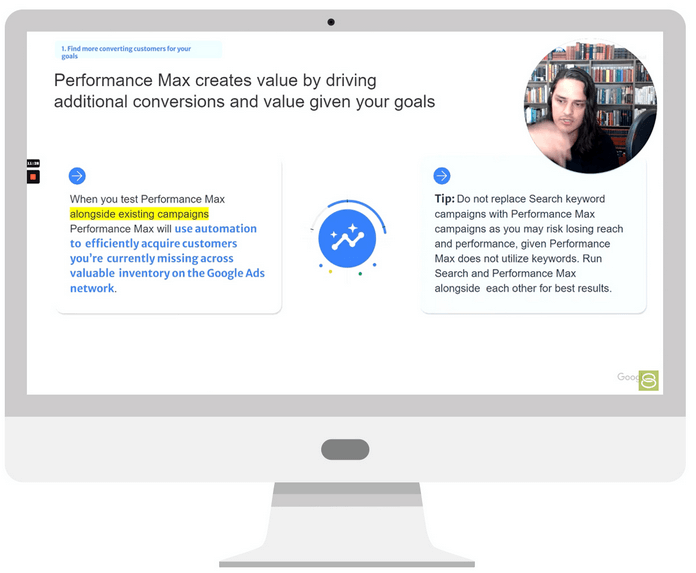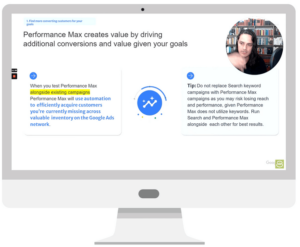 Imagine you're trying to fill a jar with big rocks. If you put the smaller pebbles first, there won't be any room for the big rocks to fit. But if you fill it with big rocks first, you can still fit smaller rocks in and maximize the use of the space in the jar.
Your Search campaigns are the big rocks – the most important and foundational pieces of your ads. Your Performance Max are the pebbles that help maximize the value of your campaigns.
In other words, Performance Max fills in all the values missing from other campaigns to get customers. That's why it's recommended to run Performance Max alongside search and other campaigns.
Performance Max has a more powerful New Customer Acquisition.
You can actually go after people who have never heard of you before. Google had only been feeding us what we already got – by selling our traffic back to us.
Now, Google is starting to tell us who the audience is, their interests, their affinities, and what they're in the market for.
With this information, you can do a lot of really good stuff like:
Building a perfect avatar.
Finding influencers.
Building a brand.
Creating content.
Developing thought leadership.
Google introduces Audience Signals – a more efficient way to reach your most valuable audiences.
You can give Google the audience (remarketing, custom audiences, etc.) and speed up the learning period it takes to reach the point where your campaign looks profitable and scalable.
Every audience gets its own asset group.
Using Performance Max's insights, you can view your top audience segments and see other relevant audience segments.
In the image above, you'll notice that there are different audiences – optimized and signals.
You now have the opportunity to better understand your audience and create new asset groups for different types of audiences!
Performance Max insights help you find an audience that's not related to your product at all but are interested in what you're selling.
You can customize your asset groups, landing pages, content, and media for a specific type of audience or page. You can control what the audience sees, and adjust your marketing message effectively.
Most importantly, you control the conversion goals. Plus, you get to test the results against each other.
How to get maximum results for Performance Max
Now that you know some of the key advantages of using Performance Max, let's talk about how to get it to work for maximum results.
Use Conversion Goals to improve leads.

Previously, Google only gave us a primary and secondary goal. While both served their purpose, they were too limiting.
In Performance Max, you can add and define specific conversion goals. As long as they're all thematically connected, you'll have a collection of actions that all relate back to the same goal.
It's like telling Google, "Hey, as long as these people do any of these things, we're all set."
How the path-to-purchase works.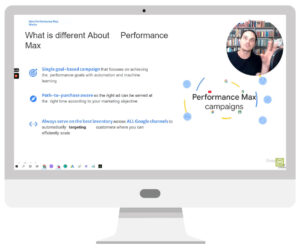 One of the things that separates Performance Max from all the other campaigns is its path-to-purchase feature.
This means Google takes all your assets, their channels, their audiences, and figures out what steps your customers take before they buy.
Focus on your creatives.
Performance Max is going to favor creatives more than Google ever has.
Unlike Facebook, Google has always been more sterile and direct when it comes to ad copy.
Hence, effective Google Ads copy are usually composed of "benefits, keywords, and USP" rather than creative media and story-telling.
While it's not going to change, Performance Max is going to favor massive media creation.
Which means, people who can come up with more and more media and assets are going to be more successful with Performance Max.
Now, if you're someone who isn't comfortable creating content, don't worry.
You don't need to produce insane Hollywood-level content. Just put out tons of creatives (images and videos) and let Performance Max pick out the best.
If Google says "optional," it probably isn't.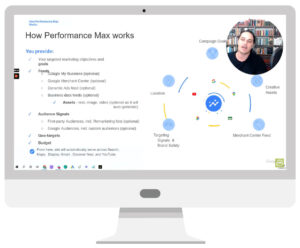 Running a local campaign to drive people to your brick and mortar business? You MUST have Google My Business.
Selling products for your eCommerce store? You MUST connect them to Google Merchant Center (unless you're selling high tickets and you want to drive leads instead of sales.)
Bottomline? Google will tell you that some requirements are optional. They aren't. So make sure you provide all the requirements you need to launch despite what Google says.
Upload your list to performance max.
Whether it's first-party data, remarketing lists, or customer audience lists, make sure you upload them into Performance Max.
Don't use Google Analytics conversions.
Google Ads and Google Analytics handle the same data very differently. One of the reasons why we don't recommend using Google Analytics' conversions is because its method of storing data can often cause about 15-25% decrease in conversion value compared to Google Ads.
In other words, Google Analytics drops data. Find out why that happens in this article.
Follow the minimum asset requirements.
To make sure you get the most out of Performance Max, you'll need to give Google as much of everything as you can. View the list of their requirements (text, image, videos, etc.) here.
Google says that video assets are optional. If you don't have any videos, Google will automatically create videos based on the text/images you have.
Don't let them. Nine times out of ten, any content you create is going to be better than Google's.
Be careful of Google's recommended campaign timeframe.
In their documentation, their recommended campaign timeframe is at least 4 weeks. This may or may not be accurate since there are a lot of things to consider – one of those is your budget.
If you're spending a dollar a day, then 4 weeks won't be enough. So, try to consider a realistic timeframe for your campaigns.
Do this single most important thing in Performance Max.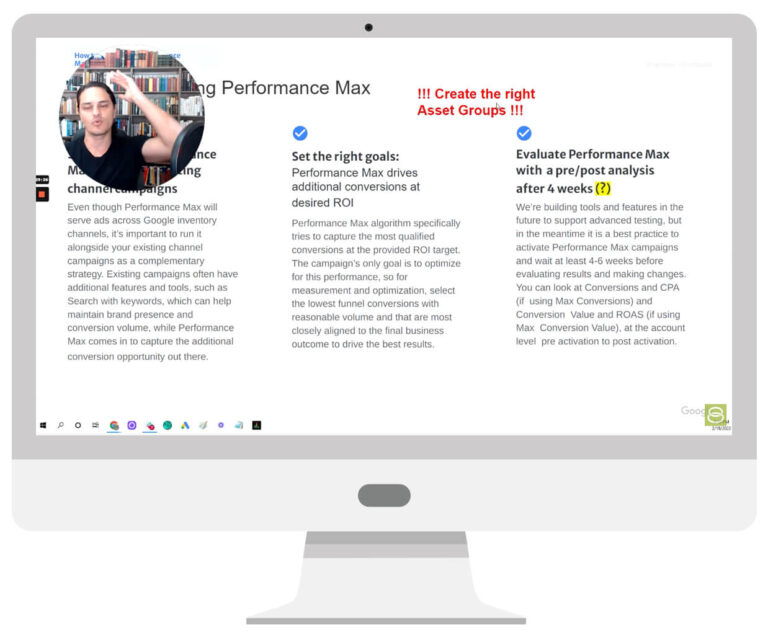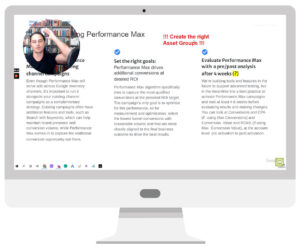 One of the coolest things about Performance Max is you can create multiple asset groups and define your audience inside the asset groups.
If you want to make the most out of your campaign, you need to create the right asset groups.
And then, you need the right media going to the right audiences. That's the single most effective strategy in Performance Max.
Finally, when you're testing and evaluating Performance Max campaigns, make sure the campaigns you're comparing Performance Max with are optimized towards the same goal.
Let's say that you started implementing Performance Max on March 15th, and you allowed it to ramp up from March 15th – March 31st.
You'll want to take the control group and compare the post period against the beginning of Performance Max.
Remember, Performance Max is relatively new and not a lot of people know how to successfully run it yet. If you want to be ahead of the competition, we've got you covered.
We created a series on how to build and manage a successful Performance Max campaign! Watch the first of the 3-part series here.


"Glad to have met the team at Solutions 8. Their creative minds have really given our business the competitive edge we needed through digital marketing. I highly recommend Solutions 8 for their creativity and personal attention, I can't say enough about how EXCELLENT Soultions 8 is!"
Tim Lyons
Founder || ProFit Marketing Solutions
Two-time "Two Comma Club Award" Recipient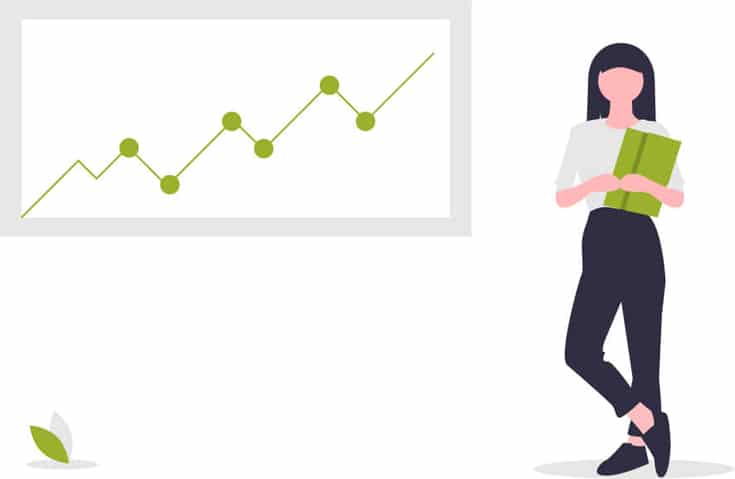 Interested to work with us?
Let us show you exactly how with a FREE PPC action plan.
No cost. No obligation. No high-pressure salesmanship. The action plan is yours to keep regardless of whether or not you choose to move forward with us. What do you have to lose?